35 Still Photos
Daylight Photoshoot
HD Compressed
Minimum $250
Matterport 3D Tour
Dollhouse & Floor Plan
Still Photos Upon Request
35 Still Photos
Daylight and/or Twilight
HD Compressed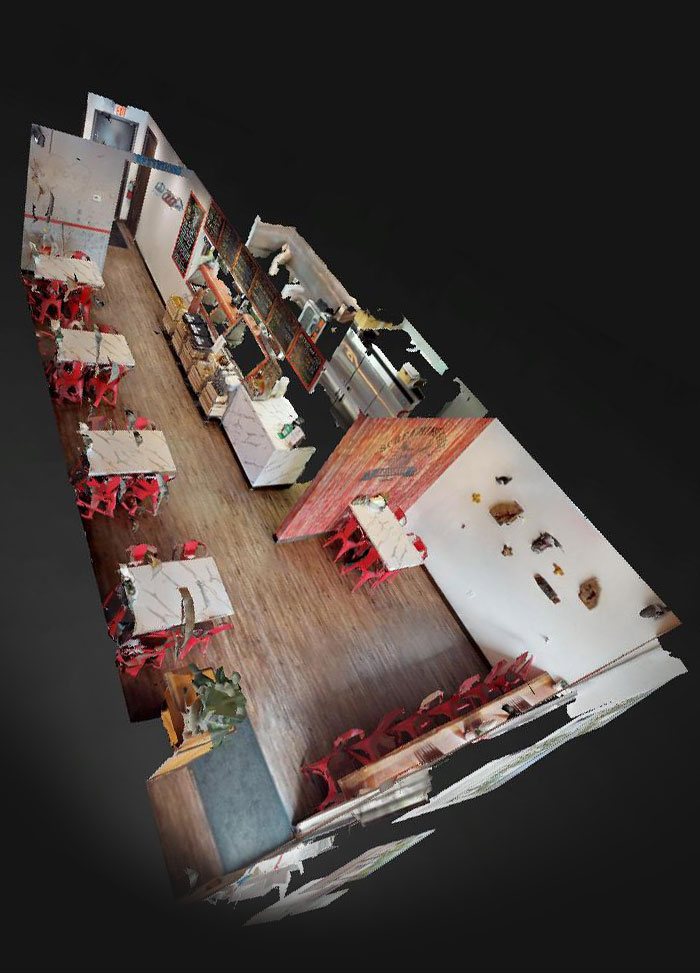 Frequently Asked Questions
What is the turnaround time for your product and services?
Typical turnaround time is 24 hours or less. It can be as short as a few hours or up to 48 hours depending on time of day and size of the property.
Who do I contact if I have a question, complaint or suggestion?
What types of payment do you take?
Cash, Visa or Mastercard. You can pay online directly from our website.
What happens if I need to cancel?
Any cancellation less than 24 hours will incur a $50 charge. Special circumstances will be taken into consideration.
What types of formats are the pictures and videos?
Mobile compatible, MLS compatible, HD pictures. Matterport tours are compatible with Foxfire 4 or later, Chrome 9 or later, IE11 or later (with Windows 8 or later), Opera 12 or later, Safari 5.1 or later (with OSX10.8 Mountain Lion or later)
How long is my Matterport tour and pictures hosted?
One year. Should you like to keep the tour longer, there is a charge of $49 per year to extend the hosting (subject to change without notice).
Do you provide any discounts for multiple component orders?
Yes, we offer a 5% discount.
How long does the typical appointment last?
For a Matterport tour, scan time is approximately 45 minutes per 1,000sf. For still pics, the average time is 45 – 60 minutes unless the property has a lot of square footage. Aerials can be anywhere from 20 – 45 minutes.
If you are a student, it is possible to pay for essay writing. It is simple and the majority of writers can write your paper completely from scratch. These companies have years of experience and have advised several generations of students. Their academic writing skills are impressive, with nearly 200k pieces completed. Every third customer orders again. They are an excellent choice for pay to write essay students who are pressed for time or who are in dire need of an essay that is high-quality but difficult to write.
EssayShark focuses on confidentiality, and has a money-back guarantee for customers. This site also allows customers to choose any formatting style they desire, and offers custom papers. It has been on the market since 2013, so you can be sure that the essay you order will be of high quality. However, the prices of this service are not cheap, and you won't be able to find cheap essays online. You don't need to fret about additional payment options because all costs are included in the final cost.
One of the benefits to using a service for writing is the ability to talk directly with the person who will handle your essay. You can ask questions, clarify instructions, and share helpful sources. This is a wonderful way to establish trust with your chosen writing company and make sure you feel safe. PayPal and credit cards can be used to pay for essay writing services. You don't have to be concerned about identity theft or fraud with any of these methods.
Many students who have trouble with their homework turn to writing services. Even though they may be top of their class in academic achievement, they still struggle to complete their homework. There are several reasons why this can be a wise decision. Read on to discover the advantages of using an essay-writing service. Here are some suggestions to help you choose the right one. These are three options for custom writing essays.
Avoid writing essays in a hurry. It's crucial to follow the professor's instructions, plan your time well within the deadline, and create an outline before you begin. Good structure is also crucial. This means that you should write your essay in three sections. Using a professional write for me writer's services can give you a high-quality paper that will be able to pass the grade your professor demands. A professional writer will follow all grammar rules to ensure a structured essay.
An essay writer service is a great option if you are short on time but need your essay done quickly. For expert assistance in more than 60 fields, experts are readily available. Moreover, they'll deliver your essay on time and at a reasonable cost. You have many benefits to using an essay writer service. Make sure you consider these factors before making your final decision. It is important to check if you are allowed to hire an essay writer.
If you have ever felt as though you can never come up with the perfect essay, don't fret! There are ways to hire a professional essay writer to do all of the hard work for you. First, choose a topic you're passionate about, and read some sample works on the subject before starting the writing process. This will help you come up with an excellent hook for your essay. Second, you won't have to waste time reading through countless academic books if you hire a professional essay writer.
Writing services can be a convenient and cost-effective way to obtain a high quality essay. Although you may be tempted copying content from the Internet to write your essay, it is important to understand that well-written essays are easy to comprehend and read. There are many online resources that will help you. If you're unsure whether hiring an essay writer is legal or not, here are some ways to tell if it's ethical.
Quality writing services never disappoint. They will send you a rough draft so you can review the essay and provide feedback. If you're not satisfied, you can request a free revision. Quality writing services will accept all essay for me comments and provide unlimited revisions. They will also allow you to review the work of their writers and make edits prior to submitting it for approval. A qualified essay writer will help you get a better grade.
If you are under pressure to finish a paper but you do not have the time to write it yourself, you may be thinking about hiring someone to do my essay cheap. Professional essay writers will be able to deliver a high-quality, original piece of writing in a very short time. They only charge for work that you're satisfied with. Moreover, you have no limit on the number of revisions you can request for.
Make sure you have an easy way to pay for your essay. Some of these services use cabinets to hold your funds. Make sure that you have the required amount in the cabinets. After the order has been accepted, you should ensure sufficient funds are available to cover the costs of the writer. Moreover, the payment system used by the writing service should accept most payment methods, which will ensure you a smooth transaction.
Prices charged for a cheap do my essays service are based on the quality of their writers and how much they charge. While a cheap essay writing service might have a high price, it may not be reliable and will not meet deadlines. Do not settle for services that are slow to deliver high-quality work. This applies even to unreliable writing services or those that cannot complete the pay to write paper project. You should always seek recommendations before hiring a cheap essay writing service.
The best source to buy your essay is a website which has a demonstrated performance record in delivering top-quality papers on time. The most reliable company will give an unconditional money-back guarantee as well as an assessment of plagiarism if they find yourself unhappy with the writing of the essay you get. Some top essay providers offer extra services, like customizing your paper buy custom essay according to diverse styles and offering 24-hour assistance to customers. These are some suggestions to help you make the right choice.
If you're not certain about how to compose an admission essay, there are plenty of suggestions. Your essay is only read by the admissions committee for a couple of minutes. But, your essay should show your personal style. That way your admissions team can tell the story of your personality as well as what distinguishes you over other applicants. Be careful not to websites that write essays for you write about your hobby and political or professional experience; instead, concentrate upon a particular experience or pursuit that is special and personal to you.
Although the obvious benefits to paying an essay writer are clear, there are many other advantages. This strategy has many benefits. In write essay for me fact, it may be a win-win situation for both parties. If you're struggling with an essay assignment, it may be beneficial to hire someone to help you. Read on to learn more about the advantages and disadvantages of hiring someone to write your essay.
First, you don't need to go to their office to hire a professional essay writer. It will be possible to choose your sources and define your requirements. The essay experts will review your instructions and send a sample before you approve it. The sample can be used to assess the work, or it may simply serve as a template. You should also be mindful of the potential risks involved in hiring freelancers.
Although it may seem like a good idea to hire someone else to help you write an essay, plagiarism is still possible. If you're planning to submit it as your own, you'll have to sign a contract transferring the copyright. The reason is that you cannot hire an essay writer by purchasing it. You can always turn the paper in your own hands or give it away to students, even if it's written by another person. It can be posted online, or sold to students.
It is possible to pay for college essays and get them delivered in a prompt manner. However, be aware that this option comes with a lot of drawbacks. It will take you a lot of time and will not be possible to do it by yourself. That's why you should make sure that the writing service you choose is trustworthy. Here are three top options for paying college essays.
We all know how difficult it can be to balance school and work. Besides, we need to read the essay we've completed. You'll be able to focus on more important tasks, which is a good thing. To get extra time to do extracurricular activities, you can buy a college essay. If you want to get a good grade, you have to focus pay for paper on studying and writing, and paying for a college essay can give you that extra time.
Unlike other services, you will receive plagiarism-free papers. You can ask for a complimentary preview if you are unsure of the quality. The portfolio of the writer can be viewed as well. They'll have written numerous essays for people like you and will give you an idea of their level of expertise. They will provide a quote within 24 hours, and will provide you with the first draft of the paper. In addition, you can ask them any questions you may have.
While it is tempting to pay someone to write my essay at a low cost, there are many pitfalls to this method. Cheap essay writing services could be unreliable, miss deadlines, or fail to complete the assignment. Here are some ways to avoid these issues. First, check the credibility of the essay help writing company. Many people have complained about bad writers who make a mockery of their work. In addition, you must check the quality of the finished product. Reliable essay services will be able to meet your deadlines and provide a paper that is free of plagiarism.
You might be thinking to yourself "why would I need a professional to write my essay for me?" You're not the only person asking this question. Many students ask the same question. If you're among those students, you've probably wondered how the service can deliver the most impressive essay possible. Luckily, there's no need to stress, our writing write my paper for me service can make your task much simpler! We've collected some tricks and tips to assist you.